Each prize winner is matched with a distinguished mentor, who meets with the prize winner throughout their research year. Below are the Internet Research Incubator Mentors for the 2016-2017 year. Mentors for the 2017-2018 cycle will be announced soon. Scroll below to read biographies of each mentor.
Jean-François Blanchette
Johanna Drucker
Roy Doumani
Venky Harinarayan
Eric Haseltine
Leonard Kleinrock
Ellen Levy
Jayathi Murthy
Safiya Noble
Amit Sahai
Michael Silton
John Silvester

Jean-François Blanchette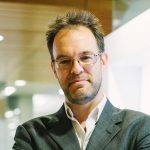 Jean-François Blanchette is an Associate Professor in the Department of Information Studies at UCLA. He has been researching issues relative to electronic authenticity, computerization of bureaucracies, and the evolution of the computing infrastructure for the past 15 years, including long-term ethnographic work in the French legal professions. He is the author of Burdens of Proof: Cryptographic Culture and Evidence Law in the Age of Electronic Documents (MIT Press, 2012) and co-editor of Regulating the Cloud: Policy for Computing Infrastructure (MIT Press, 2015).
Johanna Drucker
Johanna Drucke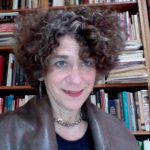 r is the inaugural Martin and Bernard Breslauer Professor of Bibliographical Studies in the Department of Information Studies at UCLA. She has published and lectured widely on topics related to digital humanities and aesthetics, visual forms of knowledge production, book history and future designs, graphic design, historiography of the alphabet and writing, and contemporary art. She has held faculty positions at the University of Texas at Dallas, Columbia University, Yale University, and the University of Virginia, as well as visiting positions at Harvard University, and SUNY Purchase. Her most recent titles include the jointly authored Digital_Humanities (MIT, 2012) with Anne Burdick, Peter Lunenfeld, Todd Presner, and Jeffrey Schnapp (just released in Italian translation, 2014); Graphic Design History: A Critical Guide (Pearson Prentice Hall) with Emily McVarish, and SpecLab: Projects in Digital Aesthetics and Speculative Computing (Chicago, 2009). A collection of her essays, What Is? was published by Cuneiform Press in 2013 and Graphesis:Visual Forms of Knowledge Production appeared in 2014 as one of the three first volumes in the new series that Harvard University Press launched in their new MetaLab series on the impact of digital humanities and design. In addition to her academic work, Drucker has produced artist's books and projects that are the subject of a retrospective, Druckworks: 40 years of books and projects, that began at Columbia College in Chicago and has been travelling. Her artist's books are represented in museum and library collections throughout the United States and Europe. In 2014 she was elected to the American Academy of Arts and Sciences.
Roy Doumani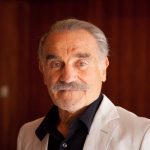 Roy Doumani is Executive Director of the Business of Science Center and a professor at the David Geffen School of Medicine at UCLA teaching "The Business of Science", "MedTech Innovations", and "Healthcare Technology" to graduate students. He currently serves as Co-Chairman of the Zhejiang California NanoSystems Institute in China.
With a background in international finance, banking, and real estate, Roy holds an equity position in and served as Director of the first joint venture bank in the PRC, Xiamen International Bank and has been involved with numerous financial institutions: Founder and Director of First Los Angeles Bank; Chairman of First Interstate Bank of Hawaii; Director of HonFed Bank; Chairman of World Trade Bank in Los Angeles. Roy has served as a board member and advisor to companies in the United States, Asia, Europe and the Middle East. Roy was also involved in many startups included Agensys and Kite Pharma. Roy was a founder, investor, and director at Agensys, which sold for approximately $250 million. Currently Roy is a founder, investor, and director at Kite Pharma, which recently went public with a market value in excess of $1 billion. Roy also presently Chairman of Neural Analytics.
Roy is a member of RAND's Center for Asia Pacific Policy's advisory board and Chairman of the Pacific Pension Institute's advisory board. He has established endowed chairs at UCLA, in the Departments of Medical and Molecular Pharmacology and Urological Oncology.
Roy Doumani graduated from the University of California at Los Angeles (UCLA) with a degree in Business and Finance and received a law degree from the University of Southern California.
Venky Harinarayan
Venky Harinarayan is an entrepreneur and investor. He is also a founding partner at Milliways Ventures, an early stage venture capital firm.
He was a founder of Junglee — a pioneering shopping search engine that was acquired by Amazon.com, a founder of Kosmix — an innovative search and categorization company that was acquired by Walmart Stores, Inc., and a founding investor in Efficient Frontier — a leading search and social media marketing company that was acquired by Adobe. Together, these start-ups were valued at $1 billion at the time of their acquisition.
Venky has also played the role of entrepreneur in two of the most successful retailers of our times — Walmart and Amazon.com. Most recently, at Walmart, Venky created and was head of @WalmartLabs, the innovation arm for the world's largest company. At Amazon.com, Venky helped create the Marketplace business, that today accounts for around 40% of all the units sold. He also invented the concept underlying Amazon's Mechanical Turk.
Venky is also an active investor. He created Cambrian Ventures, an early stage venture capital firm in 2000 whose investments include Neoteris (Juniper), Aster Data (Teradata), and Yousendit. Venky was one of the earliest investors in Facebook, investing in 2005. Other angel investments include Lyft and TutorVista (Pearson).
Venky was named to the "100 Most Creative People in Business" by FastCompany in 2012 and to the "Venture Capital 100" by AlwaysOn in 2012 and is a recipient of the Distinguished Alumni Award from IIT Madras. Venky earned his bachelor's degree from IIT Madras; master's from UCLA and PhD from Stanford University, all in computer science.
Eric Haseltine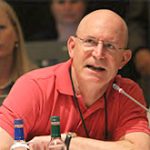 Haseltine spent 13 years at Hughes Aircraft, where he rose to the position of Director of Engineering. He then left for Walt Disney Imagineering in 1992, where he joined the research and development group, working on large-scale virtual-reality projects. In 1998 he was promoted to senior vice president responsible for all technology projects. In 2000, he was made Executive Vice President. Haseltine was head of research and development for all of Walt Disney Imagineering by the time he left in 2002 to join the National Security Agency as Director of Research. From 2005 to 2007, Haseltine was Associate Director for Science and Technology, Office of the Director of National Intelligence (ODNI)—that organization's first—a position he described in a 2006 US News and World Report interview, as follows, "You can think of me as the CTO [chief technology officer] of the intelligence community".
Haseltine is currently president, and managing partner of Haseltine Partners, LLC. He also serves on the advisory board of TTI/Vanguard. [Source: Wikipedia]
Leonard Kleinrock 
Professor Leonard Kleinrock is Distinguished Professor of Computer Science at UCLA. He laid out the mathematical theory of packet networks, the technology underpinning the Internet as an MIT graduate student in 1962. His UCLA Host computer became the first node of the Arpanet (the network that served as the foundation for the Internet) in September 1969 from which he directed the transmission of the first network message. Kleinrock received the 2007 National Medal of Science, the highest honor for achievement in science bestowed by the President of the United States.
Leonard Kleinrock received his Ph.D. from MIT in 1963. He has served as Professor of Computer Science at UCLA since then, serving as department Chairman from 1991-1995. He received a BEE degree from CCNY in 1957 and an MS degree from MIT in 1959. He has published over 250 papers and authored six books in areas including packet switching networks, packet radio networks, local area networks, broadband networks, nomadic computing, performance evaluation, intelligent agents and peer-to-peer networks. He has supervised the research for 48 Ph.D. students.
Dr. Kleinrock is a member of the National Academy of Engineering, the American Academy of Arts and Sciences, is an IEEEfellow, an ACM fellow, an INFORMS fellow, an IEC fellow, an inaugural member of the Internet Hall of Fame, a Guggenheimfellow, and a founding member of the Computer Science and Telecommunications Board of the National Research Council.
Ellen Levy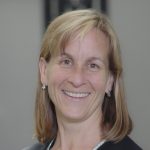 Ellen is Managing Director of Silicon Valley Connect, working with organizations and entrepreneurs on opportunities for "networked innovation." Additionally, she actively manages a portfolio of over 40 startups either as an angel investor or advisory board member, and serves on the Board of Directors of Instructure (INST).  Ellen spent the better part of a decade working with LinkedIn, including having served as Vice President of Strategic Initiatives, head of Corporate & Business Development and member of the Executive Team, and her original role as Advisory Board member when the company was first founded.
Over her career, Ellen has held formal roles in venture capital (Softbank Venture Capital; NeoCarta Ventures; Draper Fisher Jurvetson), startups (WhoWhere, sold to Lycos; Softbook Press, sold to Gemstar; LinkedIn, LNKD), technology think tanks (Interval Research), large corporations (Apple Computer, AAPL; PriceWaterhouse Coopers), and universities (Harvard University; Stanford University).
Referred to as the "Most Connected Woman in Silicon Valley," Ellen now focuses a good deal of her time on topics generally associated with dynamic, rapidly-growing startups; on a category she calls "social productivity" tools and services; on aspects of social networks within "the enterprise"; and on what it takes to build, foster and leverage innovation ecosystems and supporting organizational models.
She has a BA from the University of Michigan, and MA/PhD in Cognitive Psychology from Stanford University.
Jayathi Murthy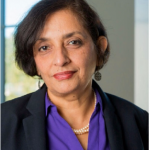 Jayathi Murthy is Dean of the Henry Samueli School of Engineering and Applied Science at the University of California, Los Angeles. Previously she served as Ernest Cockrell Jr. Department Chair and Professor of Mechanical Engineering at The University of Texas at Austin. She also served as Director of PRISM: NNSA Center for Prediction of Reliability, Integrity and Survivability of Microsystems during 2008-2014. She received her Ph.D degree from the University of Minnesota in the area of numerical heat transfer and has worked in both academia and in industry. During her employment at Fluent Inc., a leading vendor of CFD software, she developed the unstructured solution-adaptive finite volume methods underlying their flagship software Fluent, and the electronics cooling software package ICEPAK. More recently, her research has addressed sub-micron thermal transport, multiscale multiphysics simulations of MEMS and NEMS and uncertainty quantification in these systems. She is the recipient of the IBM Faculty Partnership award 2003-2005, numerous best paper awards, the 2009 ASME EPPD Woman Engineer of the Year Award and the 2012 ASME EPPD Clock Award. In 2012, she was named a distinguished alumna of IIT Kanpur, India. Prof. Murthy serves on the editorial boards of Numerical Heat Transfer and International Journal of Thermal Sciences and is an editor of the 2 nd edition of the Handbook of Numerical Heat Transfer. She has served on numerous national committees and panels on electronics thermal management and CFD, and is the author of over 280 technical publications.
Safiya Noble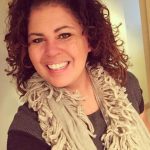 Safiya Noble is the Assistant Professor in the Department of Information Studies in the Graduate School of Education and Information Studies at UCLA. She conducts research in socio-cultural informatics; including feminist, historical and political-economic perspectives on computing platforms and software in the public interest. Her research is at the intersection of culture and technology in the design and use of applications on the Internet. She holds appointments in the departments of African American Studies, Gender Studies, and Education.
Amit Sahai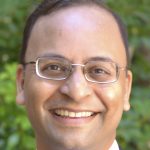 Professor Amit Sahai received his Ph.D. in Computer Science from MIT in 2000. From 2000 to 2004, he was on the faculty at Princeton University; in 2004 he joined UCLA, where he currently holds the position of Professor of Computer Science. His research interests are in security and cryptography, and theoretical computer science more broadly. He is the co-inventor of Attribute-Based Encryption, Functional Encryption, and Indistinguishability Obfuscation. He has published more than 100 original technical research papers at venues such as the ACM Symposium on Theory of Computing (STOC), CRYPTO, and the Journal of the ACM. He has given a number of invited talks at institutions such as MIT, Stanford, and Berkeley, including the 2004 Distinguished Cryptographer Lecture Series at NTT Labs, Japan. Professor Sahai is the recipient of numerous honors; he was named an Alfred P. Sloan Foundation Research Fellow in 2002, received an Okawa Research Grant Award in 2007, a Xerox Foundation Faculty Award in 2010, a Google Faculty Research Award in 2010, and a 2012 Pazy Memorial Award. He was awarded the 2016 Lockheed Martin Excellence in Teaching Award. His research has been covered by several news agencies including the BBC World Service, Quanta Magazine, Wired, and IEEE Spectrum.

Michael Silton
Managing Director at Act One Ventures, an early stage UCLA-focused technology and life sciences fund to help invest impact capital coming out of the UCLA ecosystem. In addition to the capital, we support portfolio companies with top tier Advisors of UCLA staff / alums. Formerly the exec chair at the UCLA VC Fund.  Michael has been an entrepreneur himself, having founded and run both private and public companies in the last three decades. Most recently, Michael was CEO/Founder of B2B SaaS company Rainmaker Systems, which he took public on NASDAQ. Michael previously co-founded UniDirect, a pioneer in electronic software licensing and distribution.

John Silvester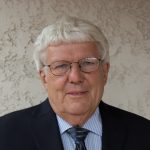 John Silvester was born in the UK and came to the US to pursue his graduate studies. He received an MA in Mathematics and Operations Research from Cambridge University, an MS in Statistics and Computer Science from West Virginia University and a Ph.D. in Computer Science from UCLA. His academic interests are in high speed, optical, and wireless networking. He has supervised more than 25 Ph.D. students and published over 150 technical papers and is currently a Professor of Electrical (Computer) Engineering at the University of Southern California where he has also served as Vice-Provost of Academic Computing and President of the Faculty (Senate). For the last 20 years, he has been actively involved in planning, management and implementation of advanced networking for the research and education community at the state, national, and international level. He has been very involved in R&E network infrastructure development and was a founding member of CENIC (Corporation forEducation Network Initiatives in California) and served as Chair of the CENIC Board for 7 years. He continues to be active in International R&E network infrastructure development, participating in and leading several NSF projects ins this area.